DHS Summer Research Team focuses on IoT vulnerabilities
Every summer, the Critical Infrastructure Resilience Institute (CIRI) welcomes like-minded research teams to campus to collaborate through the DHS Summer Research Team Program. While this year's experience will be virtual, two researchers from the University of Houston-Downtown will be joining forces with the CIRI team to research network security and reliability.
Computer Science Professor Shengli Yuan and recent graduate Tooba Hashmi are excited about the opportunity to work with CIRI
researchers.
"When it comes to research grants and opportunities, we have less of them at the University of Houston-Downtown," said Yuan. "So being able to work with a Tier 1 research institute is a great opportunity. We can learn from them and develop expertise that we can then share with our colleagues and students to improve the teaching and the research at our university."
Yuan and Hashmi will focus their summer work on determining the security vulnerabilities of existing routing protocols within the Internet of Things (IoT). After figuring out what weaknesses currently exist, they will work to create new solutions to fix the issues. In their first month of work they have already collected more than 30 recent papers for review and begun brainstorming ideas. The majority of the summer will be spent conducting research, developing solutions, and then running simulations to test the performance of their solutions.
Working with CIRI, specifically co-principal investigator David Nicol, CIRI director, ITI researcher and the Franklin W. Woeltge Professor of electrical and computer engineering, on this type of research will allow the duo access to more simulation opportunities and improved software to test their ideas.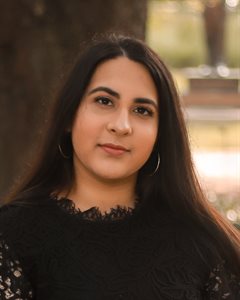 "Being able to be part of a bigger project has been really productive for me," said Hashmi, a computer science and technology graduate who will start her master's degree in the fall. "I can learn a lot from all the people with different expertise and skills. My institution is pretty small so I don't have that hands-on experience, but CIRI allows me to acquire it."
Once the research has been completed, Yuan and Hashmi will publish a report on their work and offer idea for how it can be expanded in the future. Proving that even though this year's research team experience may look a little different, it can still lead to great work and breakthroughs.
"Hosting summer research teams is one way that CIRI demonstrates its commitment to supporting students and faculty from Minority Serving Institutions," said Randy Sandone, executive director of CIRI. "We, as an institute, are greatly enriched by the experience and look forward every summer to engaging with bright minds that are hungry to learn. We are excited about this summer's very timely research topic and are anxious to collaborate with Professor Yuan and Ms. Hashmi."